AC Flyer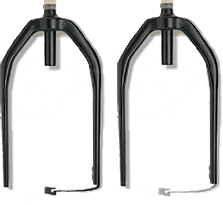 The second generation flyers being manufactured since 1980, the closed type AC Flyersare superior in performance compared to SYC Flyers
Closed type AC Flyers can attain speed up to 1400 rpm
Slot-less construction gives better quality as roving is not exposed to air turbulence
Excellent surface finish of the passage offers minimal resistance on roving, resulting in higher productivity
A steel presser maintains a uniform pressure throughout the bobbin build-up enabling a smooth winding and compact bobbin
Sizes to suit all reputed makes and models of speed frames
AC Suspended Flyer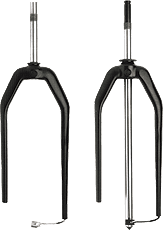 Mechanical speeds up to 1500 rpm
Suspended design permits larger package size - 16 x5, 16 x6, 16 x6.5, 16 x7
A steel presser leads to compact bobbin built up of 5% to 8% more than that of an aluminium presser and also has a longer life
Highly polished stainless steel tube ensures free movement of fibres inside the flyer
InspirOn also supplies extended height back row flyers on demand. The extended height flyer maintains a uniform roving entry angle. This helps in keeping the tension uniform between front and back row bobbins and enables consistent yarn quality from all bobbins built within the machine.
Presser Finger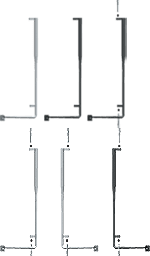 InspirOn's steel pressers help in compact and uniform winding of the bobbin. The company makes pressers for popular flyer models. InspirOn's expertise is in manufacturing wear-resistant Electroless Nickel Plated (ENP) pressers to spin synthetic fibres. The plating enhances the life of the presser. The plating hardens the presser surface to 58 RWC, increasing the abrasion resistance against high-tensile and abrasive fibres.
To attain optimum results, InspirOn Engineering recommends the use of its own pressers on its flyers. Besides getting best results from the presser assembly, it also means that no dynamic rebalancing is required when an InspirOn presser is replaced on an InspirOn flyer.
Accessories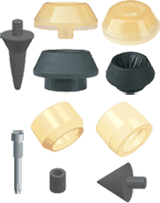 A flyer's performance depends as much on its own design as on accessories. InspirOn Engineering also manufactures all major accessories related to flyers to ensure improved productivity and increased life of the flyers. This leads to a consistent quality of roving.
InspirOn Engineering supplies a wide range of false twisters moulded from Polyurethane and Rubber depending on the application. These twisters are designed for various makes of speed frames and are compatible with all popular make of flyers. InspirOn Engineering can also supply flyer steel tube cleaning wire with brush, which not only cleans the tube, but is also used to piece a broken roving.
InspirOn Engineering also supplies highly precise bush & screw pins to provide free movement to the presser finger with minimal vibration.
Specifically selected grade of raw material of bush imported from Europe gives it long life, with desired performance. Bushes are manufactured within the stringent tolerances.
Screw pins are made up of steel with very close tolerances for desired performance.